The Lumenis IPL Quantum system is designed to be a complete aesthetic treatment solution that offers the flexibility to offer additional procedures as your business grows.
Cost-effectiveness and versatility are two of the major benefits associated with the Lumenis IPL Quantum line. And if you are looking for a system with the advantages of IPL combined with an Nd:YAG laser, the Lumenis Quantum series has several options. This customizable system includes a variety of configurations, including the Quantum SR, Quantum DL, Quantum HR or Quantum QS. It is easy to upgrade (or downgrade) as your needs change, and the Quantum system can handle just about any aesthetic procedure from laser hair removal to tattoo removal to skin rejuvenation. It also features touch-screen controls and lightweight treatment heads to help an operator treat patients faster and more efficiently. Contact UsedAestheic.com today for a low price quote on a refurbished Lumenis Quantum cosmetic laser system.
Lumenis IPL Quantum Laser Applications:
Lumenis IPL Quantum Laser Features:
Light source: Intense Pulsed Light (IPL), upgradable to include Nd:YAG
Wavelength: 560 – 1,200 nm
Pulse duration: 5 – 60 ms
Spot size: 8 mm x 34 mm
Dimensions: 16" x 16" x 39"
Weight: 165 lbs.
Electrical: 200- 240 VAC, 16A, 50/60 Hz, single dedicated line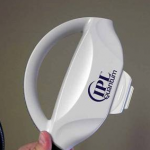 At UsedAesthetic.com, we strive to offer the best quality refurbished cosmetic equipment at the lowest prices. We are ready to help you save thousands of dollars on used cosmetic lasers, and we guarantee your complete satisfaction.
To get the lowest price on a Lumenis IPL Quantum model, all it takes is one email to UsedAesthetic.com. Just fill out the contact form below and we'll respond with the Lumenis Quantum system pricing information.